Hotels Near Disneyland
Anaheim, CA

Hotels near Disneyland in Anaheim, CA. Reviews of Disney's Grand Californian, Paradise Pier and the Disneyland Hotel.


There are many Anaheim hotels near Disneyland, but there are only three that are exclusively Disney. The Disneyland good neighbor hotels are good and economical, but the Disney properties have made our stays all the more magical.
They may be a bit more expensive, but they are well worth it. We saved just a little bit more each month and enjoyed every penny of it! It will really come down to what is most important to you.
Do you want a...
Cheap Disneyland hotel?
Convenient hotel near Disneyland?
A lavish hotel with really nice amenities?
Hotel within walking distance or with transit services?
No matter what you are looking for there is a hotel for your next Disneyland vacation. One key point is that Disney certainly has the nicest and most convenient hotels available and you may be surprised to know that they aren't always all that much more expensive.



Disneyland Resorts
As mentioned the best hotels near Disneyland Anaheim are those resorts owned by Disney. They offer the most convenience and in our opinion the nicest amenities.
If you are on a tight budget however there are still plenty of quality hotels to choose from, but you'll have to sacrifice some of the creature comforts...mainly the ease of transportation to and from the park.
Let's take a look at the top 3 Disney Hotels in Anaheim...


#3 - Paradise Pier Hotel
The Paradise Pier is in close proximity to the Disneyland California Adventures park and a quick walk across the street and through the Disney Grand Californian gets you right to the entrance.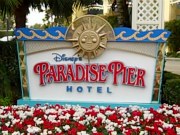 Turn left from the inside of the Grand and you have quick access to Downtown Disney. Not too terribly bad, but still not quite as convenient as the other two.
Paradise Pier Hotel is the least expensive of the three hotels near Disneyland, but offers nice accommodations and character breakfasts.
If you get the right room you'll have a great view of Mickey's Fun Wheel. We were very fortunate to have a room with a view the last time we stayed at the Paradise Pier.
Oh boy! What a view it was. To be able to come home from a long day at the park and have a view that overlooks the Mickey Fun Wheel at the Disney California Adventure park was awesome.


#2 - Disneyland Hotel
We have actually not had a chance to stay at the Disneyland Hotel, but did check out the amenities on our last trip and we must say we really liked what we saw. In fact, we are planning on staying there the on our next Disney Adventure.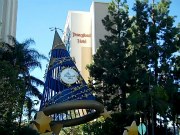 The Disneyland Hotel does have a key drawback however and that is its proximity to the parks. It is located the furthest of the three hotels and to get to the parks you'd need to walk all the way through downtown Disney to get to them.
However, the Monorail does make frequent stops in downtown Disney (fairly close to the hotel) which helps to ease the burden some.
You'll find the excitement of character breakfasts and have a very fun pool when on the property and the rooms were recently upgraded. Pricing falls in between the Paradise Pier and our #1 hotel, the Disney Grand Californian.


#1 - Disney's Grand Californian
By far the most convenient and lavish of all the hotels near Disneyland, plus our personal favorite. Downside, we have to save all year to stay there. That said, our 2010 Disneyland vacation only cost us $200 more than the Paradise Pier to stay there.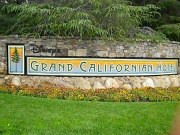 With a very easy walk to one of the Disneyland California Adventure entrances (in fact, it's attached to the hotel) it makes access in and out of the park throughout the day unmatched by any other hotel.
This is great if you have youngin' or two (we do) that need to nap during the day. Or, if you have slightly older ones (we do) that like to ride the Grizzly water ride at 8:00 on a 50 degree night and you need to change clothes fast!!!
There are many amenities here including character breakfasts, arcade, pinocchio workshop, bar/lounge, fitness center and Jenette's favorite - the Mandara Spa.
As mentioned above the pricing is the only downside, but it's expected to be higher due to all the goodies. If you can afford it it is well worth the investment! Follow this link for our complete Review of the Disney Grand Californian Hotel


---
Get the Discover® Motiva Card and get your interest back!
Apply Here!
---
Disney's Good Neighbor Hotels
We've only had the chance to stay one of Disney's good neighbor hotels and that was the Motel 6 located on Disney Way. It was decent and they allowed dogs.
The pricing was good, but we do have a couple of gripes!
First off, the floor was dirty and there was a dirty sock, plus a random toy left under the bed. The floors are wood and it was - hmmmm, how do we say...icky to walk on. Overall the room was clean though.
The second gripe would actually apply to all hotels near Disneyland that are not Disney Resorts and that is the proximity to the park. Not a huge deal, because they had a transit shuttle, but getting our double stroller on and off with a bunch of purchases wasn't much fun!
Rooms are in the $60 - $80 a night range which is great if you are on a budget and all in all it was a pleasant stay. It is really good if you have a doggie or two that you'd like to share in the Disneyland magic.



We Need Your Help
Since we have limited experience with many of the hotels near Disneyland, we need your help! Do you have a review of an Anaheim hotel? Whether good or bad it would be a big help to hear your review. We'd appreciate it and other visitors would to...


Have Something to Add?
Did we leave something out that that you feel other visitors would benefit from, please let us know.

It's free, fun and easy to share with no registration necessary! You can even add up to 4 pictures per story or tip that you share. If you leave your name we'll give you credit for your contribution.

If you want to create your very own webpage on this site, then just make your contribution full of Disney passion and 6 or more paragraphs long and your story will be a part of history forever.

It's simple to get started, just start typing...



Return from Hotels Near Disneyland to My Disneyland Vacation home