Disney Grand Californian
Hotel Review

Our families review of the Disney Grand Californian Hotel in Anaheim, Ca is always a good one and our stays there have made our Disneyland vacations all the more magical.
But, there are some drawbacks! They're easy to overcome though, just follow our tips below and we're sure your stay(s) at the Grand will be as grand as ours.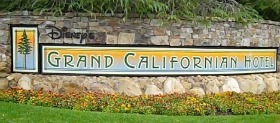 Our Experience
We've only stayed at Disney's Grand Californian twice on our vacations, but those stays combined have equaled ten overnights which gave us plenty of time to get familiar with the hotel and all its amenities.
One of the first things that strike you when approaching the Grand are the grounds surrounding it. Nestled comfortably in a forest like setting you quickly feel the excitement grow and an instant relief of stress from the "real world".
Once to the hotel entrance you'll be warmly greeted by one of many friendly bell hops that will assist you in getting all your bags (and the kitchen sink if you pack like Jenette:) out of your vehicle and then it's on to the lobby...

Lobby
A beautiful 10 foot tall stained glass sliding door will open to expose you to the lobby which for simple folk like us always takes our breath away.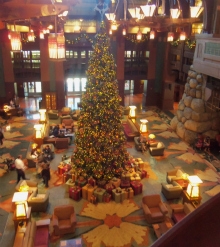 The Disney Grand Californian Hotel has a lobby that is unmatched by any of the other hotels near Disneyland and we'd venture to say by many in the country.
With high ceilings, an open 5 story high middle and its hand carved look and feel it is very inviting, spacious and cozy all at the same time.
There is a very convenient section for the kids to sit and watch classic Disney cartoons while the parents check in. Just back of that you'll find a cozy nook featuring a stone hearth fireplace that is really relaxing and toasty on cool days.
If you are fortunate enough to stay during the holiday's you'll find a great photo opportunity in front of their well decorated 30 foot Christmas tree.


Registration and Rooms
Check in is a breeze, but their check in time is 3:00 which seems a bit late in the day. On one occasion we were able to get in by 11:30 and on our most recent vacation we had to wait until 3:00 to get to our room. What did we do with all our bags?
That was easy...The Disney Grand Californian will store all your bags for you until your room is ready. This also works when you are checking out. Very nice when your stay there is done, but you have your last day of tickets to use or you want to shop it up in Downtown Disney.
The rooms are well above average, always clean, comfortable beds, can request bunk beds (the kids loved these), flat screen TV with DVD player, refrigerator, free Internet, his and hers sinks and private patio.
We haven't had a chance to stay in a suite yet, but we're sure we've got the winning lottery ticket sitting on our kitchen table and we look forward to it on our next vacation:) O heck, after winning the lottery we think we'll spring for one of their villas!


---
Get the Discover® Motiva Card and get your interest back!
Apply Here!
---
Some Drawbacks
There aren't many drawbacks with the Disney Grand Californian, but two that come to mind are pricing and room location.
The high price is to be expected seeing as it's the nicest hotel in Anaheim and by doing some research ahead of time and being flexible in your schedule you can find some great deals. Jenette is great at this!
We went in September one time for 5 nights and 6 days in the park (park hoppers) and got it all for $1795. On our most recent Disneyland vacation we went over Thanksgiving and got the room for about $1350 (5 nights) and paid for the tickets separate ($792). We received a military discount.
Regarding the room location, on our stay in Septmeber, we were staying in a room way down the hall and around the corner and down the next hall. These aren't short hallways!
This may seem petty, but after a long day in the park a quarter mile walk (Justin is embellishing a bit here) to get to your room from the elevator while pushing a double stroller loaded with kids and purchases can be taxing.
Be sure when you book your room to ask for a room fairly close to the elevator. Even on the busy Thanksgiving holiday this was something easily arranged when asked for in advance.



Downtown Disney and the Parks
One of the greatest benefits of staying at the Disney Grand Californian Hotel is its proximity to downtown and to both the parks. This makes it well worth the extra money.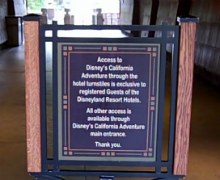 You can literally step right off the hotel property and directly into Downtown Disney or right into the Disney California Adventure park (depends on which way you turn out of the lobby) using a private entrance.
To get to Disneyland you'll need to weave your way through about a third of downtown, but still much closer than any other hotel.
This is really an exceptional benefit if you need to get in and out of your room throughout the day and/or if you'd like to change clothes quickly after going on the Grizzly Rapids ride.



Other Cool Stuff
The Disney Grand Californian Hotel is not only great for it's easy access to the parks and downtown, but there are plenty of things to do to keep you and the little ones busy if you decide to hang out for awhile.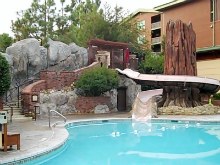 Kick It Poolside
Pull up a lounge and catch some sun by one of the fabulous pools at the Disney Grand Californian.
Want to make a day of it? Rent a private Cabana with Internet access, safe and TV.
Want to slip and slide? Check out the Redwood Pool with water slide.
Or, soothe your sore body in the hot tub.


For the Kids
The Grizzly Arcade is a perfect place for the kids to finish off their day and they can choose between roughly 20 different games.
When it is time for mom and dad to finish off their day, they can check kids ages 5-12 into Pinocchio's Workshop. There is plenty for the kids to do and they'll snap your photo and check your ID to be sure you and only you are the one to pick them up. They even give you a cell phone in case there is an emergency. This runs $13 an hour and for $6 more they will let them pick out dinner.


For the Adults
The full name of the hotel is the Disney Grand Californian Hotel "& Spa" and the Mandara Spa is a great way to spoil yourself with exotic treatments and specialty massages. Jenette loved it!
The Fitness Center is not your normal 300 Sq. foot hotel gym with 1 treadmill and a universal weight machine... It's 4000 Sq. feet and is well equipped for even the most serious lifters.
When you're ready to cap off the evening check out the Hearthstone Lounge. A great place to get a couple of drinks and recap the day.


Dining
Not much is cheap at the Disney Grand Californian Hotel and that includes dining, but the food is worth every penny. There is the Napa Rose where you can get a taste of some really fine wine and tease your palate with some delicious eats. This one is a bit ritzy for our family, but if you can afford it you won't be disappointed!
For the more traditional dining experience check out the Storyteller cafe (still a bit pricey, but darn good) and you'll also find the Chip n' Dale Critter Breakfast.
And, for our "neck of the woods" type of food check out White Water Snacks. Grilled chicken, pizza, hamburgers and more...hmmmmmm, good!


Magic Morning Early Entry
Membership has its privileges!!! On select days, your stay at any of the Disneyland Resorts affords you the opportunity to get into the Disneyland Park an hour early on Sunday, Tuesday, Thursday or Saturday.
The whole park is usually not open, but certain select "lands" will be and you can hit some of the rides that fill up quickly when the park is full.



Summary
The Disney Grand Californian Hotel is by far our favorite place to stay and we'll certainly plan for the Grand on our future Disneyland vacations. If you can afford the bit extra we encourage you to give them a try and please come back to share your stories.
Here is how to contact them:
Disney Grand Californian Hotel
1600 S. Disneyland Drive
Anaheim, CA 92802
(714) 635-2300 (Hotel Operator)
Reservations
(714) 956-MICKEY
(714) 956-6425


Return from Disney Grand Californian to Hotels Near Disneyland

Go to My Disneyland Vacation home