Disneyland Railroad
and Train Ride

The Disneyland Railroad and train ride was certainly a nice relief to our tired feet when we were nearing the end of our 6 day Disneyland vacation.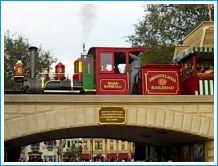 We boarded in New Orleans Square and took the full ride around the park to see what we may have missed that were "must do's" before our last day came to an end.
You get a great view of the park and we recommend you sit in the front for the best view (there are two rows, one in front of the other and both face you towards the park).
The total train ride lasts roughly 22 minutes and has a total of 5 boarding areas: Main Street, New Orleans Square, Mickey's Toontown, Fantasyland and Tomorrowland.
Depending on how many trains are running (there are 5 total) the Dineyland Railroad wait times are at a maximum of 20 minutes with only one train running.


Did You Know? Strollers are allowed on the Disneyland Railroad. As long as you can fold it, bring it!
While on the train, keep an eye out for angry dinosaurs and be careful to not get too close to the edge of the Grand Canyon while enjoying the view.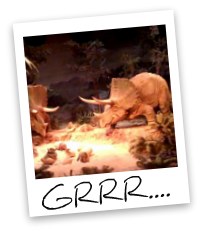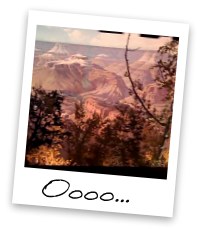 ---
Get the Discover® Motiva Card and get your interest back!
Apply Here!
---
Particulars
Load Time: Fast. Main Street, Toontown and Fantasyland typically have the fastest loading times.


Height Requirements: None.


Duration: 22 Minutes for a full loop around the park.


Scareability Factor: Zero.


Disneyland Railroad Tips: For the best view or to take pictures as you ride sit in the front row.


Physical Considerations: Must be able to climb some stairs to get to the platforms and to board. Audio Description and Handheld Captioning devices available at Guest Relations.



What Say We!
Jenette - It was a relaxing way to figure out what we wanted to do next.
Justin - It was nice to get off our feet after pushing a stroller through crowds for the last 6 days. I also completely forgot about the Grand Canyon view and about the scary dinosaurs...Good thing the kids were there to comfort me!
Jonas - It was cool seeing the dinosaurs!
Caitlyn - I want to go on the Winnie the Pooh ride! What can we say she's only 4.
Lilya - No Comment (not quite 1 yet).



History
As with most things Disney related there is a very interesting history and some cool tidbits surrounding the Disneyland Railroad.
Walt Disney had a love of trains and wanted to incorporate them in a way to use as transportation in the park. The train ride has been there since the beginning and serves as a visual park boundary.
In addition, Walt paid homage to some key figures in the Santa Fe railroads history by naming each one of the four trains, operating prior to Walt's passing, after them.
Engine No. 1 (from the beginning) - the CK Holliday was named after the founder of the Santa Fe railroad.
Engine No. 2 (from the beginning) - the E.P. Ripley was named after one of the Santa Fe's early presidents.
Engine No. 3 (added to the Disneyland Railroad in 1958) - the Fred G. Gurley was named after the Chairman of the Santa Fe in 1958.
Engine No. 4 (added in 1959) - the Ernest S. Marsh was named after the president Santa Fe president at that time.
Engine No. 5 (added in 2005) - the Ward Kimball was named after one of Walt's key animators who loved trains nearly as much as Walt.



Summary
Overall the Disneyland Railroad is a relaxing and scenic tour of the park which is great for resting weary feet! On top of that, if you plan it properly, this train ride can make navigating the park a breeze.
Get the kids some ice cream delights at one of the nearby vendors, sit back and enjoy the ride!
If you feel there is something we left out that might be a great addition to this page please let us know just below...Otherwise, what are you waiting for? Get your boarding pass and jump on board! Book your dream Disney vacation at Expedia.com!
Have Something to Add?
Did we leave something out that that you feel other visitors would benefit from, please let us know.

It's free, fun and easy to share with no registration necessary! You can even add up to 4 pictures per story or tip that you share. If you leave your name we'll give you credit for your contribution.

If you want to create your very own webpage on this site, then just make your contribution full of Disney passion and 6 or more paragraphs long and your story will be a part of history forever.

It's simple to get started, just start typing...



Return from Disneyland Railroad to Disneyland Rides

Go to My Disneyland Vacation home