Disneyland Buzz Lightyear Ride
Help Buzz Save the Universe!

The Disneyland Buzz Lightyear ride is certainly one of our families top 5 rides and the whole family is able to take a galactic spin to help battle the evil Emperor Zurg.


No Disneyland vacation would be complete without trying it at least once, but we'll betcha' that once won't be enough.
If you're anything like Justin, then you'll want to go again. And again. And again!
Located right near the entrance to Tomorrowland you'll sometimes find that the lines are long (apparently we're not the only ones that like it), but the line moves quick.
If you are really impatient, then there are FastPasses available to avoid a galactically long wait!



The Ride...
Prepare Junior Space Rangers, to help Buzz save all the universes toy batteries from the evil Emperor Zurg.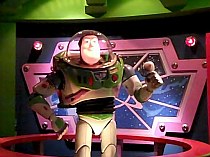 As you work your way up the hall to the Launch Bay, and your awaiting XP-40, be sure to pay close attention to the briefing that Buzz gives in the Star Command Action Center.
Once you have the details of your mission it's time for all ready, willing and able Junior Space Rangers to board their XP-40 Space Cruisers.
You'll find it's equipped with two laser cannons and a joystick (to steer your cruiser, if you choose). The rest is up to you...


Aim Small, Miss Small!
Ready...Aim...Fire at any one of the many targets located throughout the Buzz Lightyear ride and watch your score rack up as your laser hits its mark. Nice shootin' Tex!


Did You Know? Targets that are moving or farther away rack up points quicker. It also seems the points for targets will vary based on color. In order of highest to lowest: Blue Triangle, Purple Triangle, Green Square, Orange Circle.
As you blast your way through the Gamma Quadrant don't get overwhelmed by all the sites and sounds... You're gonna' need all your wits about you as your XP-40's flight path guides you to your final showdown with the evil Emperor Zurg.
Now is the time to earn your pay! Pump those trigger fingers like never before as all the toys in the universe are at stake. It's a team effort and if you all pull together we're confident you'll defeat Zurg and his minions (it's also a great way to rack up your score).
Upon reentry into the Buzz Lightyear ride Launch Bay your score will be locked in and you can look at the chart on the wall to see if you've earned a promotion from Junior Space Ranger to a:


| | | |
| --- | --- | --- |
| SCORE | LEVEL | RANK |
| +999,999 | L-7 | GALACTIC HERO |
| 600,001 - 999,999 | L-6 | COSMIC COMMANDO |
| 300,001 - 600,000 | L-5 | RANGER 1ST CLASS |
| 100,001 - 300,000 | L-4 | SPACE SCOUT |
| 10,001 - 100,000 | L-3 | PLANETARY PILOT |
| 1,001 - 10,000 | L-2 | SPACE ACE |
| 0 - 1,000 | L-1 | STAR CADET |
Well...How'd you do?
---
Get the Discover® Motiva Card and get your interest back!
Apply Here!
---
Particualrs
Load Time: Fast. Sometimes the line may look long and ominous, but for the most part the ride moves very fast. For every 100 people in line ahead of you, you're only looking at about a 3 minute wait.


Fastpass Available: Yes. Unless you are on a real tight schedule and trying to time your Disneyland vacation down to a "T" there is really no need to use it though.


Height Requirements: None. Even infants can ride on mom or dad's lap.


Duration: The Buzz Lightyear ride is about 4 1/2 minutes of fun filled, trigger pulling action.


Scareability Factor: Near zero. Unless someone is overdue for a nap there should be no tears shed on the Buzz Lightyear ride.


Buzz Lightyear Ride Tips: If you want to hit the ride several times in a row, try going in the early morning or during parades/firework shows. You'll basically walk on.
Once you get a little more comfortable with your laser gun try using your free hand to work the joystick to better position yourself. The joystick allows you to turn your XP-40 Space Cruiser a full 360°.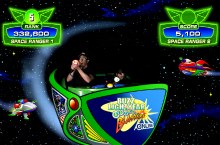 Keep your best galactic game face on at all times...Your Astro Blaster action shot will be taken at some point during the ride.
We're not quite sure when it's taken, but we suspect it's somewhere near the end of the ride.
Be sure when you are exiting the ride to check the photo station where you can find your photo and email it for free.


Physical Considerations: Audio Description and Handheld Captioning devices available at Guest Relations. Guest must be able transfer from ECV to wheelchair. Outside of that the ride is not very fast moving or too jerky. If you have back or neck problems you may want to lay off using the joystick.



What Say We
Jenette - "Even though I stink at it and couldn't hit the broad side of a barn, the ride is a lot of fun and it's cool to go with the whole family."
Justin - "Love it! The line moves fast and it's fun to always try to beat my personal best of 690,000. I'm eagerly awaiting the day when I can be promoted from Cosmic Commando to a full fledged Galactic Hero. One can only dream!"
Jonas - "Yeah! Yeah! Buzz Lightyear ride...Can we go again?" Jonas really likes this ride and between him and Justin it's hard not to go on this ride 2-3 times in a row. He's getting better with those laser cannons too.
Caitlyn - Did you like it? "Hm-hmmmm". Alright, 'nuff said...Caitlyn's a fan:)
Lilya - Handles the ride well and seems to be overwhelmed (in a good way) by all the bright colors.



History
The Disneyland Buzz Lightyear ride is still a fairly new one and was first opened in 2005. It is a very popular ride due to it's interactive video game feel.
Each Space Cruiser has two laser cannons that tally each riders individual scores as targets are hit throughout the ride. This is great for competitive couples or siblings and was part of the imagineers idea to make the riders fully engaged with the ride.



Summary
The Disneyland Buzz Lightyear ride is one of our most highly recommended rides as the whole family can ride it and there are few physical limitations. Ride it for the sights and sounds or...
If there is a competitive bone (even if it's just one) in your body you are going to love this ride as much as we do! It's practically guaranteed.
So what are you waiting for? Book your dream Disney vacation at Expedia.com
today and help Buzz save the universe!



Have Something to Add?
Did we leave something out that that you feel other visitors would benefit from, please let us know.

It's free, fun and easy to share with no registration necessary! You can even add up to 4 pictures per story or tip that you share. If you leave your name we'll give you credit for your contribution.

If you want to create your very own webpage on this site, then just make your contribution full of Disney passion and 6 or more paragraphs long and your story will be a part of history forever.

It's simple to get started, just start typing...



Return from Buzz Lightyear Ride to Disneyland Rides

Go to My Disneyland Vacation home