Big Thunder Mountain Ride
at Disneyland
"This Ain't Your Normal
Choo Choo Train"

Our families Disneyland vacation wouldn't be complete without the Big Thunder Mountain Railroad Ride...Literally!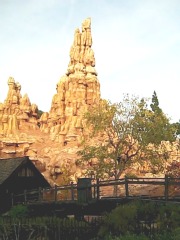 This is certainly one of our top 5 rides and almost the whole family can go Allll Abooooard (Lil' Lily still has another couple of years though).
Although lines can get long during peak seasons the line tends to move as fast as the railroad itself.
If you really don't like to wait, have no fear a Fastpass is near! And, with a minimal height requirement, most 4 years olds on up should be good to go!
Located in the heart of Frontierland it's hard to miss the Big Thunder Mountain Railroad ride. Standing in at over 100 feet tall and with its red rock design it can make for some excellent sunset photography.



The Ride...
Walking the switchback trail to the ride will quickly bring you back in time where, as usual, the Disney imagineers spared no amount of effort or expense to recreate the gold rush era and that of a small mining town.
At one point on the trail you'll find yourself under the bridge where the Big Thunder Mountain Railroad ride (not 10 feet above) comes to an end. You'll know you're in the right line for the right ride when you see all the smiling faces of the riders pulling into the station.
As you work your way up the stairs to reach the boarding area the excitement begins to build as you know it's your turn to hop on board, explore the mines, view the scenery and hold on for a wildly exciting ride.


Did You Know? The walls lining the walkway are made from 100 tons of gold ore...For you city slickers, gold ore isn't worth anything, so don't go takin' a pick to them there walls!
Once your safety bar is secure you're off...The Big Thunder Mountain ride begins with your trains entry into in a mine which click, click, clicks you to the top of the mountain.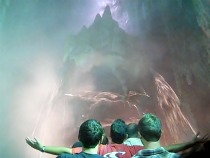 On your way up your eyes and ears will be treated to the delightful sites and sounds of a beautiful waterfall, but your train ride is just beginning...
Why you ask? Because, shortly after it's time to come roaring down the tracks on the other side of that there hill...Weeeeee!
It's on to the tight twists and turns, simulating a runaway train, that make this ride so fun, but no loops, corkscrews or perilously long drops (for those of you with weak stomachs, Justin's raising his hand).
Just when your runaway train seems to have regained control of itself you'll find yourself ascending up the inside of one last mountain.
This time there is no pretty waterfall, but a boulder shaking earthquake that grabs your attention and as you reach the peak - similar to deja vu - you find yourself roaring down the other side of the mountain to finally "splash down" in Dinosaur Gap (no need to wear rain gear though).
From there it is a casual, ear to ear smiling cruise through the little mining town of Rainbow Ridge. Oh Boy, that was fun!


---
Get the Discover® Motiva Card and get your interest back!
Apply Here!
---
Particulars
Load Time: Fairly fast most of the time. A 15 - 25 minute line tends to be most common when we go, but peak seasons can get you into in the 45-60 minute wait time (or more).
If all 5 trains are operating you can expect a much shorter wait time (roughly 3 minutes for every 100 people in front of you).


Fastpass Available: Yes. Definitely take advantage of the Big Thunder Mountain rides Fastpass during peak times and you'll knock the wait time down considerably. Rider swap is also available.


Height Requirements: 40". Take note that smaller kids will tend to slip and slide in their seats (not a safety concern though) and you may want to squeeze in tight so they can enjoy the ride and not feel like they are holding on for dear life the entire ride.


Duration: About 3 1/2 minutes.


Scareability Factor: Not much to be scared of unless you really don't like roller coasters. It's fairly fast, but there are no huge drops, loops or corkscrews. We found that the ride did scare Caitlyn a bit at night, but during the day she was fine.


Big Thunder Mountain Ride Tips: First tip, ride it! It's really a lot of fun. Next, use the Fastpass during peak times or consider riding in early morning (before 10:30am) or after sunset (after 6:30) for quicker boarding.
Riding after sunset also gives the Big Thunder Mountain Railroad ride a whole new feel as you race in and out of mines, mountains and caves in the dark!
The cars are divided up into three two person seats and for those of you that are curious...Nobody gets to sit in the locomotive.


Physical Considerations: Kids 8 and younger must ride with an adult. Must be able to transfer from a wheelchair. Need to be good overall health. Those with heart conditions, high blood pressure, back or neck problems, motion sickness or other conditions that could be upset by this attraction should not ride.



What Say We!
Jenette - "I still remember my very first time on the Big Thunder Mountain Railroad ride. I was around 4 and I will never forget those rocks that were going to fall on me (4 year old imagination). Still one of my favorites!"
Justin - "Love it. I'm not a huge fan of roller coasters in general - weak stomach...or maybe just chicken:) - but I love this ride. It's a whole lot of fun for everyone and is actually a good primer for those just starting out with roller coasters."
Jonas - "Can we go on Thunder Mountain? Can we...Can we???" Yes, this is definitely one of, if not Jonas' favorite rides...Can't say that we blame him.
Caitlyn - "I don't want to go on it at night." She is not quite as enthusiastic about the ride as Jonas is, but she enjoys it during the day.
Lilya - At 1 year old it's gonna take Lily another 20 inches of growing before she can give her review.



History
The Big Thunder Mountain Railroad ride was first introduced in 1979 and took five years of planning, plus another 2 years to build.
Standing tall at 104 feet and taking up over 2 acres of prime Disneyland real estate, it's quite the site and well worth it. The mountainous/rocky layout was inspired by the beautiful red-rock peaks in Utah's Bryce Canyon National Park.
It replaced the "Mine Train Thru Nature's Wonderland" that had been there from 1960 to 1977. They did carry over the little town of Rainbow Ridge however...How could they NOT keep this cute little town???
Big Thunder Mountain got its name from an old Indian legend of a Wyoming mountain that didn't take well to men trying to extract its gold. When they did try, the mountain "thundered" its disapproval!
The attention to detail throughout the Big Thunder Mountain Railroad ride is amazing and was proven to us by a close frame by frame review of our own personal video of the ride. At 50 MPH it's hard to get it all...
Everything from simple props like T.N.T. boxes, pulleys, loose rocks/sand on the mountain and of course, the critters (yes, this includes a goat with a stick of T.N.T. in its mouth). Even check out the top of the waterfall...Still haven't figured out what that is, but it's got eyes???
It's all there even though you don't stand a chance of seeing it all while on the ride (or do YOU). It must be a Disney subliminal thing to really draw you in. Guess what? It works. We love it!



Summary
Short and sweet...a must ride ride! If this is your first Disneyland vacation, you've got to try it. If it's your second trip, well then, we'll just assume you want to do it again.
Long and lasting...This is really a great ride and overall those that are 5 years old and up should really enjoy it. Be sure to take note of the physical considerations above however, as it is a fairly "shifty ride."
Realistically, the Big Thunder Mountain Railroad ride is a great one for those that don't care for the traditional "hard core" roller coaster as you won't get spun, twisted (there are some fast turns though) or dropped from a 30 story building at 75 MPH.


Return from Big Thunder Mountain Railroad to Disneyland Rides

Go to My Disneyland Vacation home